Escape to the heart of the Welsh countryside and immerse yourself in our enchanting Winter Wonderland at The Greyhound Inn and Hotel.
Nestled amidst the breathtaking Usk Valley, our award-winning traditional country pub is renowned for its warm hospitality, delectable home-cooked cuisine, and cozy ambiance. As the winter chill descends, we invite you to indulge in our Alpine-inspired dining and party nights, where the spirit of festivity takes center stage. A great blend of good old Welsh Christmas fun, Swiss alps cheese fondue and smorgasboards!
Step into our charming establishment, where roaring log fires and the aroma of mulled wine fill the air, creating an atmosphere of pure enchantment. Our chefs have crafted a menu that captures the essence of the Swiss Alps, featuring hearty schnitzels, fondue, and other Alpine delicacies. See our menu page.
Gather your friends and family for an unforgettable evening of laughter, camaraderie, and culinary delights. We are dog friendly too!
Whether you're seeking a cozy retreat to escape the winter's chill or a night of revelry with loved ones, The Greyhound Inn and Hotel promises an unforgettable Alpine experience. Book your table and stay today and let us transport you to a winter wonderland of warmth, cheer, and fabulous home cooked alpine and traditional great pub food.
Kelly & the team xx
We are a traditional country pub with rooms
We offer wholesome home cooked foods and B&B accommodation. We are proud to be a dog friendly pub and hotel!
"Warm and cosy, anxcellent atmosphere, fantastic traditional setting, Brilliant hosts. A hidden gem in the Usk Valley"
"Lovely stay as always - the food was delicious and served quickly and the atmosphere was as wonderful as ever"
"Excellent find and a dog friendly hotel too! We will definitely be staying here again"
EXPLORE MONMOUTHSHIRE & THINGS TO DO NEAR US
We have many popular walks and cycle routes near us.
The cycle route 42 which was part of the Welsh Velathon for 3 years and has some massive hills runs straight past our door.
We are also smack bang on the Famous Usk Valley Walk which is a 48 mile walk, literally almost straight through our field! It starts in Caerleon and ends in Brecon. A fabulous walk for the serious walkers! We are also just 30 minutes away from the Brecon Beacons.
We have ample storage for your push bikes and a massive car park for motor bikes, wether you are popping in for lunch or staying over night for a good nights sleep. One of the best biker friendly pubs and rambler friendly accommodation in Wales!
"Great for Motorbike groups!! We were looking for a 4 night base so that our 6 person gang could explore the biking roads of south and mid wales. Well aware of Covid issues the staff implemented great strategies to accommodate our group. Loved the breakfast and we decided to stop for all evening meals too! We did also enjoy one or two evening ales. Have to say we had a great time".
For a list of our nearest attractions and towns see our Contact Us page
WE ARE A DOG FRIENDLY HOTEL!
As dog owners ourselves, we know how much dogs enjoy going on holiday with their owners. We have several dog friendly hotel rooms at The Greyhound, so there is no need to leave your pet in kennels when you book a stay with us. If you are booking accommodaton, we allow up to two dogs per room (an extra charge of £20 per night applies). The accommodation block is located conveniently next to our lovely garden.
Dogs are allowed in our top bar so you are able to enjoy a meal and a drink or two with your pet. You can also sit outside in our beautiful garden anytime of the year, we have plenty of outdoor seating with patio heaters and your four legged friend gets breakfast included!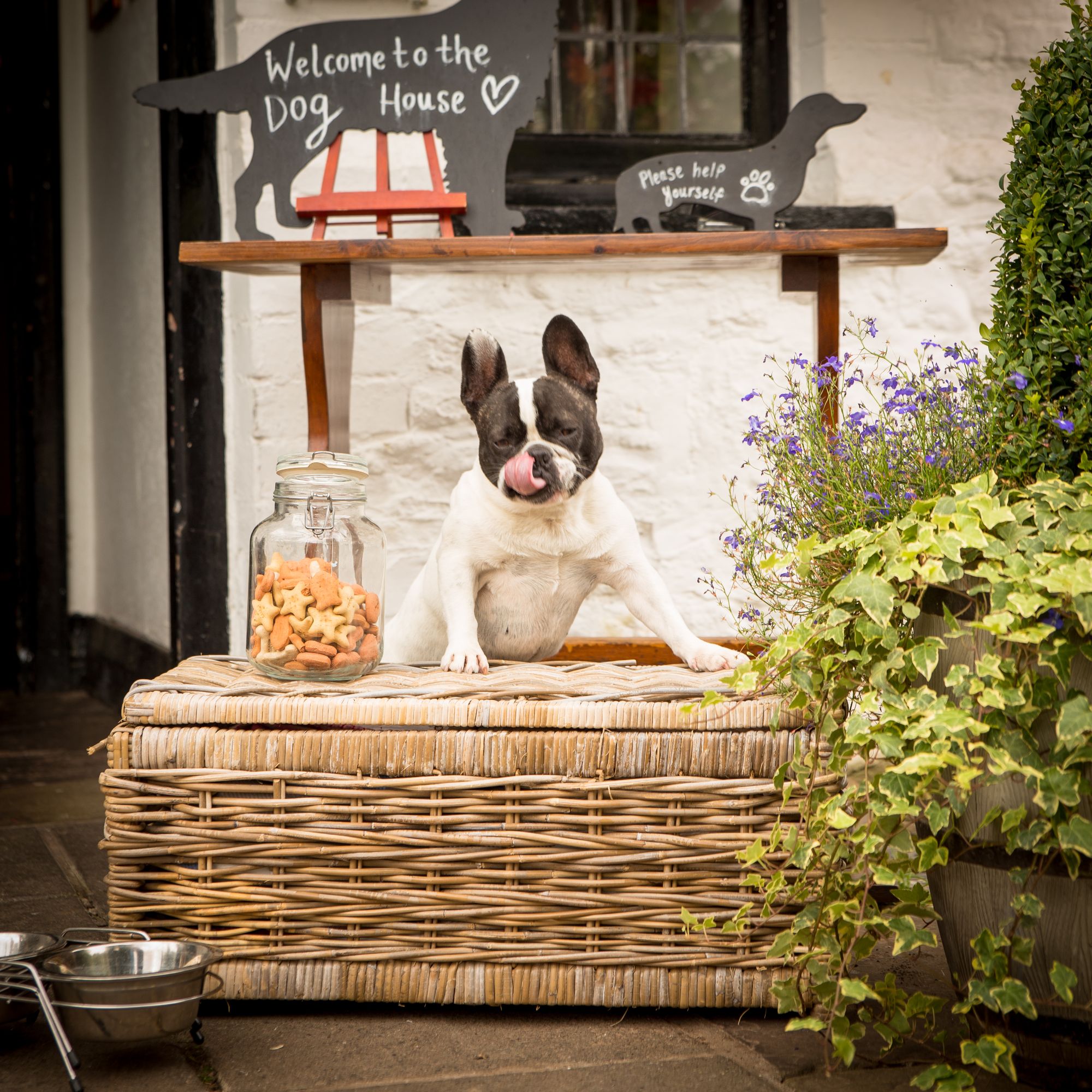 Join our mailing list to receive information on our latest news and offers!