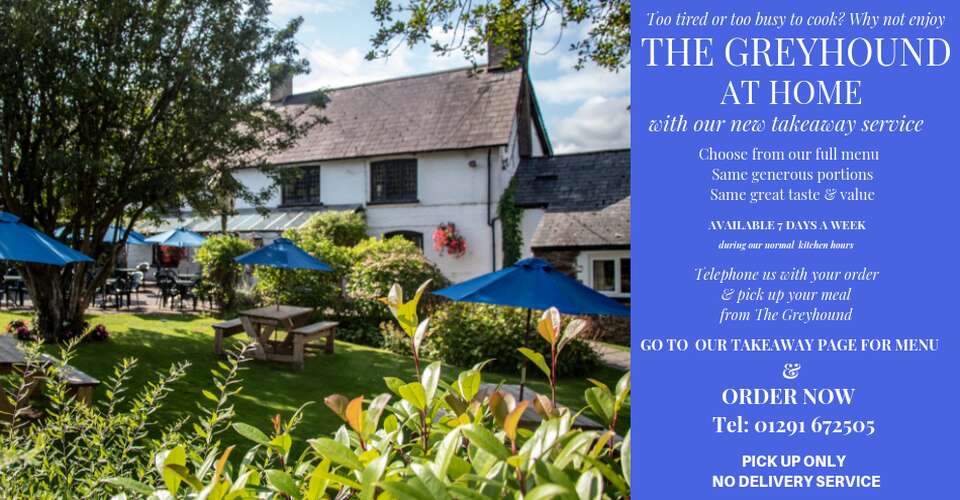 Takeaway Service
The Greyhound at Home Takeaway Service
Our customers keep asking us for takeaway meals so for 2019 we thought we'd give it a try!
Now when you are too tired or too busy to cook or go out you can enjoy the full Greyhound Menu from the comfort and convenience of your own home. Whether it's a cosy night in for two or you are planning a larger group gathering like a dinner party, ordering your Greyhound at Home meal is the perfect choice.
How to Order - it's very easy
Simply view/download our Greyhound at Home Takeaway Menu below, make your selection, telephone us with your order and collect your meal when it's ready. You will be given a collection time when placing your order.
TELEPHONE US WITH YOUR ORDER: 01291 672505
PICK UP ONLY - NO DELIVERY AVAILABLE At the moment we are not able to offer a delivery service. However, we are looking into working with a delivery partner and we'll let you know if this service becomes available in the future.
MENU
Food can be ordered during our normal kitchen opening hours - available times are shown on the menu.
Our Facilities
Pet Friendly
Disabled
Conference
Credit Card
Free Parking
Restaurant
Bar
Laundry
Family Rooms
Ironing Service
Internet Services
Wifi
Vegetarian
Walking Holidays
Country Retreat