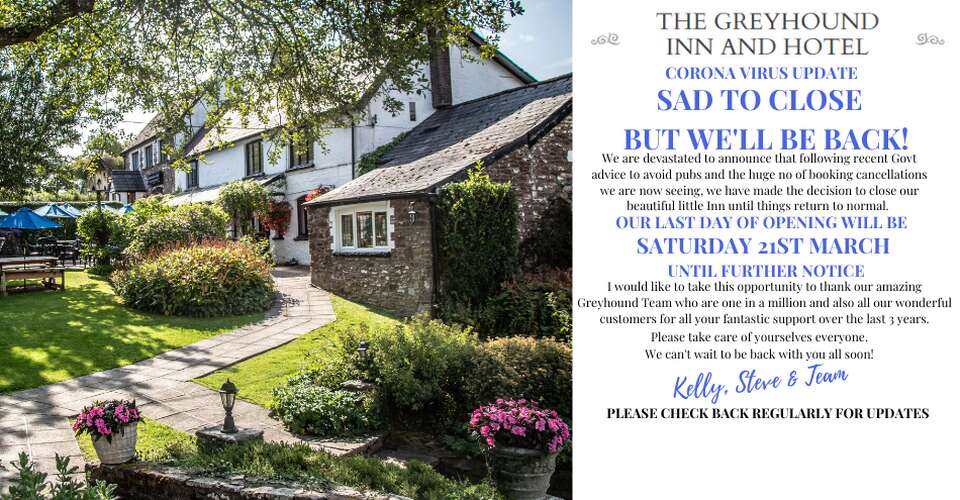 Country Pub in Monmouthshire
The Greyhound Inn and Hotel offers everything you would expect from the best of country inns. We are a traditional, 18th century stone-built village pub with accommodation near the picturesque small town of Usk, in the heart of rural Monmouthshire, South Wales. Whether you come to stay, to eat a meal or a bar snack, or just pop in for a drink, you are always assured of the warmest of welcomes.
Kelly and Steve Jolliffe and their team are proud of the great reputation they have for their delicious, home-cooked food, and for the relaxed, friendly atmosphere. The roaring log fires and cosy bars will cheer up the worst of winter weather while the beautiful gardens with their glorious summertime floral displays are perfect for enjoying a drink or something to eat on warmer days and evenings. If you are visiting the area for leisure or business or just fancy a night out, then there are 10 en-suite rooms offering everything you need for a comfortable stay.
All in all, its this winning combination that has earned The Greyhound the title of a Visit Wales Four Star inn, as well as a host of other awards over the years. Come and experience it for yourself!
GREYHOUND NEWS & EVENTS
RECENT AWARD FROM HOTELS.COM
GREYHOUND STAFF SHOWING OFF THEIR 80's LOOK AT OUR RECENT VERY POPULAR 80's THEMED VALENTINES NIGHT
THE GREYHOUND VICTORIAN CHRISTMAS 2019
Some pictures from our Victorian themed Christmas 2019.
Greyhound awarded 9.3 "Superb Category" by Booking.com
A big thankyou to all our guests who chose to stay with us in 2019 and gave us fabulous reviews on Booking.com.We are delighted to have been awarded 9.3 which puts us in the "Superb" category for guest stays in 2019.




Greyhound Wins Prestigious National Tourism Award
Kelly, Steve and other members of The Greyhound Team receiving a National Tourism Award for Best B+B in South East Wales 2018
---
Location
Our Facilities
Pet Friendly
Disabled
Conference
Safe & Secure Payment
Free parking
Restaurant
Bar
Laundry
Family rooms
Ironing service
Internet services
Wifi
Vegetarian
Walking holidays
Country retreat
More Info »
---
"Kelly and Steve made us so welcome for the twelve nights that we stayed at the hotel with our dog, we unfortunately had water damage at our home and work needed to be done, we had to move out, when it came to hospitality, so welcoming and friendly, the staff were wonderful, Breakfast was second to none, and evening meals were excellent too. All very relaxed atmosphere and the room was lovely and warm and clean and the shower water pressure was brilliant, Room cleaning was excellent and the tea and coffee were always available, Having disability's wasn't any inconvenience to me or to the hotel, would highly recommend a stay, if you were having a meal and perhaps wanted a drink or two, booking a room rather than driving would be well advised, supply of real ale delicious and cellars kept perfect temperature, pipes were clean and no nasty taste from kegs to glass, can't speak highly enough of the welcome we were given, and saying goodbye was a bit of an emotional time due to the friendliness that Kelly and her staff had shown us. Five stars isn't enough of a rating for this facility,"
"Lovely place and lovely people.Will always stay here when I visit Usk or indeed anywhere in the area."